Collages can be very useful design elements, tying together a variety of images into a cohesive whole. They can be especially appropriate for applications involving collaborative efforts or teams, as they can encompass such a broad range of topics and subjects. For this reason, collages can be an effective way to express the core brand principles of cross-disciplinary collaboration and shared energy.

---
Overlapping Grid Collage
The example shown below is one style of collage that can be created using elements of the UVA brand. It uses overlapping images to create depth and interest paired with a simple monochromatic palette.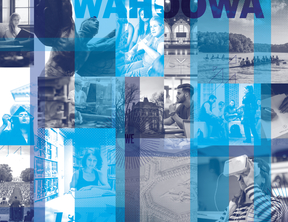 Learn more about using the Overlapping Grid Collage and download a template.