Photo treatments can add depth and focus to images while representing UVA brand concepts like ingenuity and freedom of thought.
---
Image Cutout
You can use this technique of cutting out all or portions of an image to add depth and hierarchical focus to a photograph.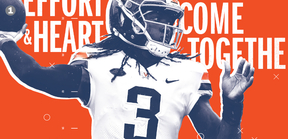 Learn more about using Image Cutouts and download the required files. 
---
Diagonal Plane Breaks
Diagonal Plane Breaks offer another way to represent breaking boundaries, ingenuity and the concept of the illimitable freedom of the human mind. The following examples illustrate the variety of ways this technique can be employed.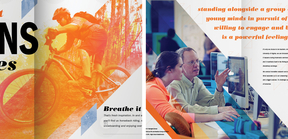 Learn more about using Diagonal Plane Breaks. 
---
Portrait Circles
Like Diagonal Plane Breaks, Portrait Circles provide a way to use a simple headshot and allow the subject of the portrait to break the circumference along the top.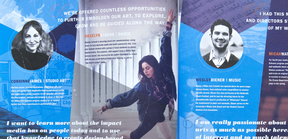 Learn more about using Portrait Circles. 
---
Halftone Treatment
The Halftone Treatment can be used to create large-scale images in brand colors of high quality that are inspired by vintage screenprints. The Halftone Treatment can change the limits of photo resolution into vector-like shapes that can work at any size.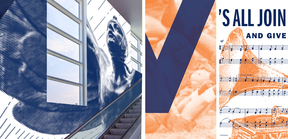 Learn more about using the Halftone Treatment.