Primary Color Palette
The institution's color palette is a powerful and important asset in establishing a strong, consistent identity for the University. The primary palette features Rotunda Orange, Jefferson Blue, White and Rich Black.
Rotunda Orange and Jefferson Blue are to be used in all full-color logos and across all communications and applications. The inclusion of white in the color palette is intentional as the use of "white space" helps emphasize the logo, text and messaging. For applications where there is a significant amount of black coverage, use the Rich Black formula indicated below in order to achieve a richer, more solid color. Tints of Rich Black can also be used to produce a range of grays. 
Note that Rotunda Orange and Jefferson Blue use UVA-specific formulas to ensure greater production consistency and to better manage licensed use by approved University vendors. Rotunda Orange and Jefferson Blue are available in Spot and CMYK formulas. RGB values of these colors, as well as the secondary web color palette, can be found in our Web Palette section.
---
Print Production
When Rotunda Orange and Jefferson Blue are printed as Pantone colors, they cannot be referenced by standard Pantone numbers. Designers and vendors must refer to approved color swatches to ensure color accuracy. To obtain a swatch packet of these colors, please email brandguidelines@virginia.edu. Additionally, ink mixtures to achieve these colors for printing are available below.
Use the Pantone Coated (C) and CMYK Coated formulas when printing on coated paper stock. Use Pantone Uncoated (U) and CMYK Uncoated formulas when printing on uncoated stock. Swatch palettes with these color values are available to download.
There is no need to make changes to existing printed materials. For work created after July 2017, please re-download existing marks and lock-ups to ensure correct color references, and direct vendors to use the UVA-specific Pantone formulas listed here.
The colors shown on this page are not intended to match Pantone color standards.
---
Web Production
Please visit our Web Palette page within our Brand Guidelines for more information on web colors.
---

Rotunda Orange
PMS Coated Ink Mixture:
PANTONE Yellow 012 – 28.50
PANTONE Rubine Red – 18.75
PANTONE Process Blue – 0.50
PANTONE Trans. White – 52.25

PMS Uncoated Ink Mixture:
PANTONE Yellow 012 – 54.60
PANTONE Rubine Red – 16.00
PANTONE Black – 0.40
PANTONE Trans. White – 29.00

CMYK Coated: 0, 64, 81, 0

CMYK Uncoated: 0, 68, 100, 0
RGB: 229, 114, 0
HEX: #E57200

Jefferson Blue
PMS Coated Ink Mixture:
PANTONE Process Blue – 19.80
PANTONE Medium Purple – 14.50
PANTONE Black – 15.70
PANTONE Trans. White – 50.00
PMS Uncoated Ink Mixture:
PANTONE Process Blue – 58.90
PANTONE Medium Purple – 27.90
PANTONE Black – 13.20
CMYK Coated: 87, 70, 22, 44
CMYK Uncoated: 98, 83, 12, 46
RGB: 35, 45, 75
HEX: #232D4B

White
CMYK: 0, 0, 0, 0
RGB: 255, 255, 255
HEX: #FFFFFF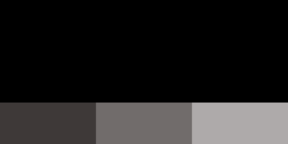 75% TINT
50% TINT
25% TINT
Rich Black
CMYK: 50, 50, 50, 100
RGB: 0, 0, 0
HEX: #000000