Primary and Secondary Fonts
Adobe Caslon

Used in the University's primary logo, Adobe Caslon is a 20th-century adaptation of a typeface originally designed by William Caslon—the founder of Britain's first type foundry. This typeface was used extensively throughout the British Empire during the 1700s, including the British colonies in America. When John Dunlap of Philadelphia typeset the first printed edition of Thomas Jefferson's Declaration of Independence, Caslon was the typeface he chose.
A serif font, Caslon is suited for more formal, traditional applications such as letterhead, business cards and envelopes.
---
Franklin Gothic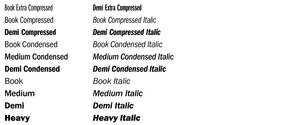 Franklin Gothic is a simple and versatile sans serif font with a modern feel. This family of fonts is the most flexible system available for use in the UVA brand. All weights and faces are available for use, but should be used with discretion where appropriate. Franklin Gothic is the primary typeface for both headlines and body copy in marketing materials.
---
Bodoni

Bodoni is a secondary font in the UVA brand. Bodoni Poster Italic is most frequently used as it provides a bold yet studious feel. A more designed font, the typefaces within the Demi Compressed Italic Bodoni family are not intended to be used as primary fonts, but as accent design elements in select creative applications.
---
Requests to acquire an individual font license for Franklin Gothic and Bodoni can be made by contacting brandguidelines@virginia.edu. Each font license is distributed individually and cannot be shared with others in your school/unit. Font licenses for Franklin Gothic or Bodoni may also be individually purchased by contacting Monotype Imaging Inc.