Headlines and body copy are the two major building blocks in a marketing writer's toolkit.
Headlines are used to make bold proclamations. They should be as intriguing and engaging as possible, challenging the reader to think in new ways about UVA.
Body copy should be bold, confident, inspiring and energizing. In addition to evoking UVA's strength, the copy should be forward-looking, capturing the relentless spirit to always pursue better.
You can see how the brand comes to life through language in the examples below. We've provided samples of headline and body copy used in a website, a brochure and an ad.  
---
Digital
Virginia.edu Overview Page
As shown here, digital language should be engaging, concise, easy to scan and immediately relevant to visitors. It typically balances informing with persuading, a trade-off that varies depending on the purpose of the material.
Headlines should be interesting and express value to the reader, while encapsulating the information in their respective sections. For search engine optimization (SEO), links should be embedded in language, using language that reflects the content to which they will direct users.
Bullets can make digital language easier to scan. When bullets are not appropriate, short paragraphs and sentences boost readability.

virginia.edu/life/residencelife
---
Print Materials/Collateral
Financial Aid Brochure
Like digital copy, copy for print materials should be engaging, concise and relevant. Likewise, it should strike a careful balance between informing and persuading, which will vary depending on the goal of the piece.
As this example shows, print copy is sometimes longer than digital copy. However, short paragraphs and sentences still boost readability. As with digital content, bullets and bold yet informative headlines make your document easier to scan for key information.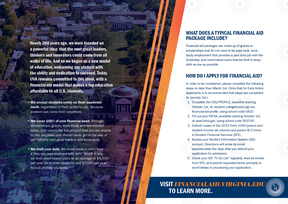 ---
Advertising
Rotunda Full Spread Ad
Ads are typically intended to attract attention and persuade or influence readers. Consider using more creative, heavily branded language, particularly in headlines. These should work with imagery to capture interest, provoke thought, and spark a positive emotional response. Body copy should be short and elegant, explaining the meaning of the headline in as few words as possible.