Virginia Athletics Brand
This visual identity system takes iconic elements from the University's brand – including the Rotunda, Virginia Cavalier and sabre – and reimagines them in bold and modern ways. The result is a cohesive family of marks that captures the strength, diversity and ethos of the Athletics program and speaks to a new generation of Hoos.*
---
V-Sabre

Since its inception, the V-Sabre has always embodied the energy and strength of Virginia Athletics – as well as the greater University Community. It will continue to be the primary logo of UVA Athletics and will be used on uniforms, in broadcasts, on merchandise and social media and in recruiting and digital media designs. Here, the mark incorporates bold lines and beveled edges, giving it weight, power and a dynamic presence.
---
Cavalier Shield

The Cavalier Shield offers a modern take on a coat of arms. Traced from original blueprints, the top of the shield echoes the silhouetted roof of the Rotunda. Below, the hat and sabre embody the fighting spirit of Virginia Athletics.
As the secondary logo, the Cavalier Shield brings a sense of energy and flexibility to brand expression. While it should never substitute the primary logo, the secondary logo can be used on an as-needed basis to complement designs.
---
Virginia Cavalier

The face of Virginia Athletics for decades, the Cavalier personifies the excitement and spirit of our program. In this iteration, the Cavalier takes a fighting stance. Hat tipped, the figure is an inclusive symbol, representing all members of the University community – regardless of gender, ethnicity, age or background.
---
Virginia Athletics Typography and Numerals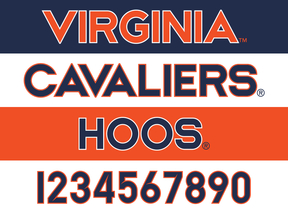 This typography uses a clean and modern design, utilizing straight lines and circles found in the original design documents of the Rotunda, to unite all 27 varsity teams across Athletics. The design of the numbers includes an allusion to the sharp edge of a sabre.
---
Colors
Cavalier Orange and UVA Blue remain the primary colors for Virginia Athletics. Borrowed from the University's primary color palette, UVA Blue connects the Athletics brand to UVA as a whole. Cavalier Orange is the color worn by our student-athletes and conveys the bold, unafraid, fighting spirit embodied in our athletic pursuits, fans and community.
Please note that Cavalier Orange is not intended for general application or formal University communications and should be reserved exclusively for apparel merchandise and applications related to UVA athletics.
---
* Please note that the use of all marks and iconography illustrated above is exclusive to the Department of Athletics, athletics-affiliated entities and licensed vendors. Any questions regarding the Virginia Athletics brand or use of Athletics marks should be directed to the Office of Licensing & Trademarks.