While the University's primary logo represents the organization as a whole, logo "lock-ups" show the relationship between the University and its schools and administrative units.
Our lock-ups are available in a variety of formats: Primary, Vertical, Short Form and Centered. This allows you to identify your school or unit in different styles and degrees of formality, and to accommodate longer and shorter names.
Please note that we have created two distinct conventions for schools and administrative units, respectively.
---
(1) The Rotunda mark signifies UVA's timelessness
(2) The vertical separator creates a traditional feel
(3) Adobe Caslon Pro Semibold cap combined with italicized secondary words creates a cohesive relationship with our primary logo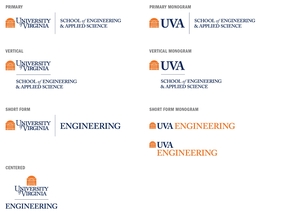 ---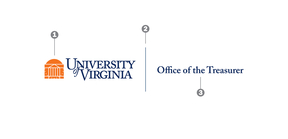 (1) The Rotunda mark signifies UVA's timelessness
(2) The vertical separator creates a traditional feel
(3) Administrative Unit: Adobe Caslon Pro Semibold title case creates a cohesive relationship with our primary logo