The following examples show four graphic elements unique to the Batten brand expression.
Facet
As shown here, the Batten brand uses varying faceted shapes in an effort to convey the concept of disruption.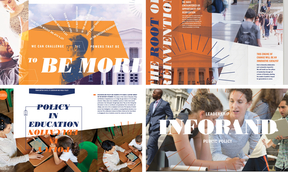 Visionary Burst
The burst is derived from the UVA Oculus pattern. It is a design element used to connect the Batten brand to the University master brand. It also denotes energy, innovation, entrepreneurship, new thinking and the Batten spirit of inspired revolutionaries.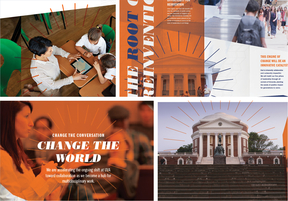 Chevron
The chevron symbolizes honor and dedicated leadership. It can be used as a lead-in to copy or to call attention to specific information. It can also be used as a container shape to hold images and type.

Lattice
The lattice can be used as a pattern either behind objects or overlaid on top for texture. It can also be used as a border element. It provides structure and implies the idea of growth and positive change.