Logos, Colors and Fonts
Our logo is the most important and recognizable element of our brand's identity. It is an icon that represents our organization to the outside world and acts as an identifying and unifying mark. Using the University of Virginia logos, colors and type treatments can quickly and effectively bring the brand into your videos.
Additional information regarding Logos, Color Palette and Fonts are available within these guidelines.
For video purposes, the Centered University Logo is recommended. Because of its construction, it works best when centered within the frame, as shown in the example below. For legibility, it is recommended to use the full-color logo against a white background. We recommend this as the end bumper on any video piece.
For a 1920px by 1080px video sequence, the recommended size of the logo is 432px by 271px.
---
Lower-Thirds
The most common text on screen takes the form of "lower-thirds," which is the term used to title an individual on screen.
A two-line format is recommended for the presentation of lower-thirds, where the first line is the subject's name and graduation year (if applicable) and the second line is the subject's title, degree, area of study, affiliation, etc. A single-line format is utilized when a two-line format is not applicable or necessary.
As shown in the samples below, our recommended placement of lower-thirds is at the bottom left or right of screen, depending on the composition or location of the subject. The text should be justified left or right accordingly. Lower-thirds should always be placed within the title safe area, which on a 1920px by 1080px frame would be 192px from the left or right of the frame and 108px from the bottom of the frame.
There are two available styles of lower-thirds: Formal and Dynamic, both of which are available here for download.
NOTE: Use of these templates will require that you have Photoshop/After Effects and the approved UVA brand fonts installed on your computer. To request fonts, please contact brandguidelines@virginia.edu. For more information, refer to the Fonts section in these guidelines.
Formal
This simple, classic style uses Franklin Gothic Book Regular is the preferred font for lower-thirds. The first line of text is sized at 50 pixels and the second at 40 pixels, styled in all caps with kerning set to 180 points.
Alumni
Line 1: Name, Graduation Year
Line 2: Degree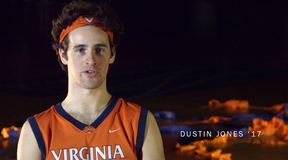 Current Students
Line 1: Name, Graduation Year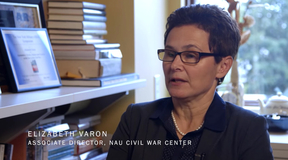 Faculty & Staff
Line 1: Name
Line 2: Title
Dynamic
This treatment has an added degree of energy and dynamism, and a slightly less formal feel. The first line of text is sized at 83 pixels, all caps, and the second at 48 pixels, title caps, with the kerning set to 26 points on both lines.
Both the Formal and Dynamic templates are available here for download.