The light flare aura can be used to add a more subtle sense of warmth and energy to a photograph than the dot screen aura.
To use the light flare aura as shown in figures 2 and 3, download the light flare aura starter file. The light flare aura should only be used as a overlay photographic treatment. Because this is a more subtle effect, it can be used in combination with others such as ink blots, color overlays, etc.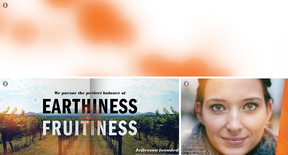 Figure 1
Figure 1 shows the light flare aura graphic isolated.
Figures 2 & 3
Figures 2 and 3 are examples of the light flare aura graphic applied to color photography.
---
To Create This Effect in Photoshop
1)  Open the main image and light flare aura graphic (see location below) in Photoshop. Drag the light flare aura into the main image and place and size it as desired.
2)  Duplicate the light flare aura graphic in three separate layers.
3)  Set the blend modes of these layers to "Screen, "Lighten" and "Overlay," and vary the opacities of each layer until the desired effect is achieved.
4)  Add additional layers and repeat the above steps as necessary.