The Parallelogram Collage uses shapes and images to communicate substance and energy. This collage employs both UVA's primary and secondary color palettes. It is one style of collage that can be created using elements of the UVA brand. The following examples illustrate how this technique can be used.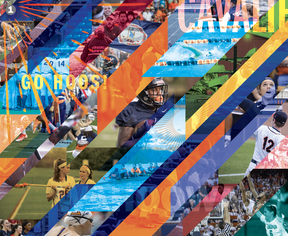 Figures 1 and 2
Creating Parallelogram Collages – like those Figures 1 and 2 – that reflect the University brand requires adherence to several unifying principles. 
For example, use a variety of subject matter and depth of focus. Doing so helps some images in collages stand out while others fill space, leaving the overall effect balanced and potent. This effect can be enhanced by using full-color images, color overlays and design elements.
---
How To Create A Parallelogram Collage
The effects of the Parallelogram Collage can be created using different applications. This template and the following instructions for it use InDesign to achieve the final result.

1) In InDesign, open a new document and create a parallelogram. One way this can be done is by drawing a rectangle and then using Shear X Angle variable (set to 45 degrees) on the Control bar. See below.

2) Copy and paste to create more parallelograms and trapezoids: both large and small, wide and narrow.

3) Once the page is full, add different colors to the shapes from the primary and secondary color palettes. Make sure the collage design feels balanced and that Jefferson Blue and Rotunda Orange are used prominently. Adding color now will help you when you add overlays and effects later.

4) Next, place the images you want in your collage inside each shape by selecting the shape and then using File > Place. The image is placed inside the frame of your parallelogram or trapezoid.
5) Continue until you have filled each parallelogram and trapezoid with an image. In this design, notice how some images are tightly focused while others are more broadly focused.

6) Now that the collage images are placed, begin to experiment with color overlays and effects. You can achieve different color treatments by double-clicking a shape (which selects the image inside the shape's frame), and then opening Effects. Effects like Screen, Overlay, Soft Light, Hard Light, Color Burn and Luminosity will let the brand colors of the frame shine through while working in tandem with the color of the image itself. Leave some images without effects to add to the energy of the collage.

7) On a separate layer above the first, create new parallelogram shapes randomly across the page. Also include design elements and typography. Again, adjust the graphics to best work with the photos in the grid and the overall design. Move the graphics around and perhaps tuck them inside and underneath certain images. Then adjust the transparency of each element to with Effects so that graphics will react to the color of the photos beneath them.
You can use this template to develop your own Parallelogram Collage.