As shown below, the Gradient Fade effect can be used to create spaces for text and graphics on images that might not have free space for text to appear legibly. The Gradient Fade can provide that space and still include the beauty of a full-color image.
This treatment uses the Gradient Map effect and continues to focus on Jefferson Blue as the base hue for images.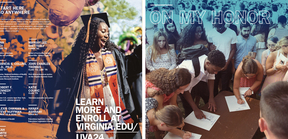 Pretreated Images
A collection of pretreated images using the Gradient Fade treatment are available for download. These images may be used across print and web applications.
---
To Create This Effect in Photoshop
1) Open the image in Photoshop and duplicate the image layer.
2) Follow the instructions for the Gradient Map effect on the new layer.

3) Add a layer mask to the new Gradient Map layer. 
4) With the layer mask selected, use the Gradient Tool to draw a line in the direction you wish the Gradient Fade to appear.

5) Once you have the Gradient Fade the way you want it, right-click the layer mask and select Apply Layer Mask.
6) Once the image is flattened (Layer > Flatten Image), the image can be converted to CMYK for four-color printing or RGB for web. Now your image is ready for your layout.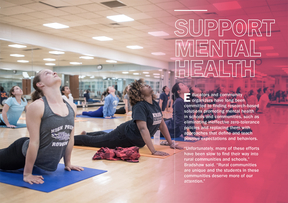 ---
Incorrect Use: Gradient Fade Uses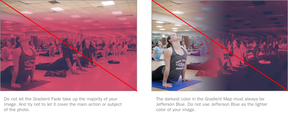 Do not let the Gradient Fade take up the majority of your image. And try not to let it cover the main action or subject of the photo.
The darkest color in the Gradient Map must always be Jefferson Blue. Do not use Jefferson Blue as the lighter color of your image.