As shown below, the Gradient Map effect can be used to add color and vivacity to images that run beneath graphics and text.
Similar to the Duotone treatment, the Gradient Map effect focuses on the relationship of UVA Blue with other colors in the UVA brand palette.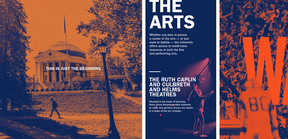 Pretreated Images
A collection of pretreated images using the Gradient Map treatment are available for download. These images may be used across print and web applications.
Photoshop Action
A Photoshop action is available for this effect. Photoshop actions streamline the process of producing these effects in an easy and efficient way. Instructions on how to use the action are available.
---
To Create This Effect in Photoshop

1) Open the image in Photoshop.
2) Open the Gradient Map tool (Image > Adjustments > Gradient Map) and click the gradient to edit the colors. In the Gradient Editor, select the bottom left square of the gradient. Click on the Color dropdown to open the Color Picker and enter the UVA Blue values.
3) Then select the bottom right square of the gradient. Click on the Color dropdown to pen the Color Picker and enter the values of UVA Orange or another UVA brand secondary color.  
4) Once you have the Gradient Map made, click OK. Now you have a Gradient Map-treated image.

5) For added visual grit, you can include some Noise (Filter > Noise > Add Noise) to your image. This image is 300 dpi and more than 18 inches wide, and the noise is set at 10%. (Do not add too much noise to your image.)
6) The image can now be converted to CMYK for four-color printing or RGB for web. Now your image is ready for your layout.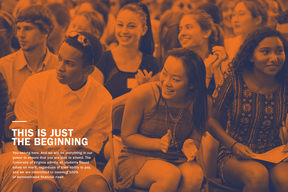 ---
Incorrect Use: Gradient Map Colors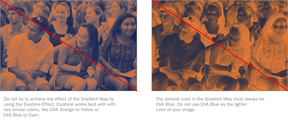 Do not try to achieve the effect of the Gradient Map by using the Duotone Effect. Duotone works best with with two similar colors, like UVA Orange to Yellow or UVA Blue to Cyan.
The darkest color in the Gradient Map must always be UVA Blue. Do not use UVA Blue as the lighter color of your image.