You can use this technique of cutting out portions of an image to add depth and hierarchical focus to a photograph.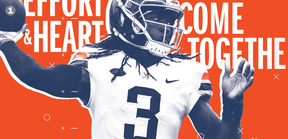 Figure 1
Figure 1 shows the image cutout applied within a layout.
---
How-To Create This Effect in Photoshop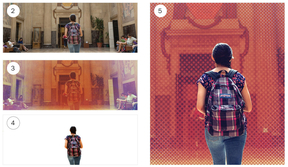 1) Open the original photograph (figure 2) and the dot screen aura graphic in Photoshop. To execute the dot screen aura treatment shown in figures 3 and 5, refer to the dot screen aura section within these guidelines.
2) Drag the dot screen aura into the original photograph, and then place and size it as desired (figure 3).
3) Duplicate the original photograph, and place that layer at the top within the layers palette. Add a layer mask (figure 4 shows the masked layer with the original photograph and dot screen aura layers turned off).
4) Turn on all layers to view the final result.
Add additional layers and repeat the above steps as necessary.