Portrait Circles provide an updated approach to presenting headshots while communicating the UVA brand. By allowing the subject of the portrait's subject to break the circumference along the top of the image, this treatment realizes the concept of "illimitable freedom." The following examples illustrate a variety of ways this photo treatment can be executed.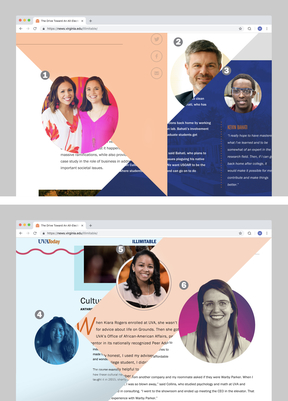 Figures 1, 2 and 3
Figures 1, 2 and 3 show how utilizing Portrait Circles can transform simple point-and-click photos into interesting and engaging secondary imagery.
Pair a Portrait Circle with a sidebar biography or pull quote (ex. Figure 3) to add interest to marketing materials and editorial stories. 
Figures 4, 5 and 6
Figures 4, 5 and 6 show how adding other brand treatments (like Duotone in Figure 4) to Portrait Circles can add energy and dimension to imagery.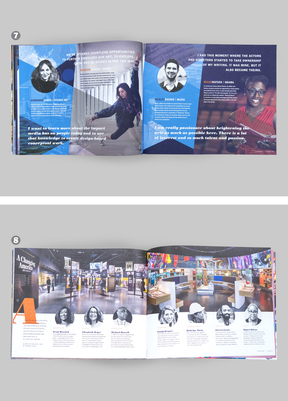 Figure 7
Pairing Portrait Circles with larger, dynamic photography can create an energetic effect, while maintaining emphasis on the subject(s). It can also provide contrast to content and points of entry into storytelling and supplemental material.
Figure 8 
Portrait Circles also work well in clusters that require a similar content footprint, such as a group of quotes from UVA students or a staff directory. When the photo is treated the same (ex. Figure 8), no matter the quality or angle, the uniformity of the group is achieved and hierarchy avoided.
---
How To Create This Effect in Photoshop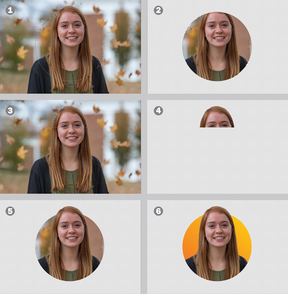 1) Using the elliptical marquee tool, strategically place an outlined circle over the subject so that part of the head lies outside the circle.
2) Select Layer > New > New Layer via Copy to create a new layer of just the circled content. (Seen with original layer visibility turned off.)
3) Turn off your new circle layer and return to the original layer. Using Lasso Tools, the Magic Wand tool, or whatever your preference, outline the part of the photo subject that will lie outside the circle. You can be generous with overlapping.
4) Select > Inverse and delete the remaining background of the image.
5) Turn on the visibility of the circle layer created in Step 2, then select Layer > Merge Visible to merge the two layers together. Now you have a Portrait Circle.
6) Additional color treatments can be added to your Portrait Circle, depending on your image and its use. See Color Effects in the Brand Art Toolkit for ideas.