These logo lock-ups represent the relationship between the University and its school foundations. They are available in primary, vertical and multiple color formats to fit a variety of needs.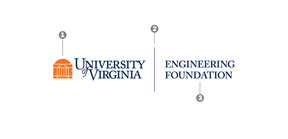 (1) The Rotunda Mark signifies UVA's timelessness
(2) The vertical separator creates a traditional feel
(3) Adobe Caslon Pro Semibold title case creates a cohesive relationship with our primary logo

Primary
Consider using this version where space allows, for example on office stationery or reports.

Vertical
The vertical version is intended for applications where horizontal space is limited.