Microsoft Word Templates can be used to create a variety of branded documents, including report and presentation cover sheets, flyers, agendas, briefs, leave-behinds and more.
These templates have been built using the latest version of Microsoft Word. While they have been tested on various platforms, you may still experience differences in functionality. For help using Microsoft Word please visit the Microsoft Word Help Center. If you require further assistance, please contact us at brandguidelines@virginia.edu.
All fonts used in the templates are UVA Brand fonts. Requests to acquire an individual font license for Franklin Gothic and Bodoni can be made by contacting brandguidelines@virginia.edu. Each font license is distributed individually and cannot be shared with others in your school/unit. Font licenses for Franklin Gothic or Bodoni may also be individually purchased by contacting Monotype Imaging Inc. Adobe Caslon is available through Adobe Typekit with an Adobe Creative Cloud subscription. Please contact brandguidelines@virginia.edu for font substitution suggestions if you are unable to use the approved UVA fonts.
---
Template Groups
Template groups have been created to coordinate with PowerPoint and Keynote presentation assets.
Below is an overview of the six available template groups along with visual references of their design styles. You can download these files individually or as a complete collection.
Formal and Scholarly Cover and Interior Pages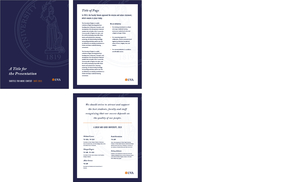 Download the Formal and Scholarly Template Group here.
Informal and Fun Cover and Interior Pages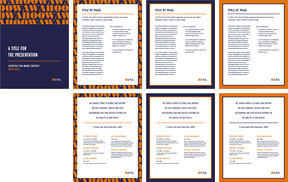 Download the Informal and Fun Template Group here.
Clean and Classic Covers and Interior Pages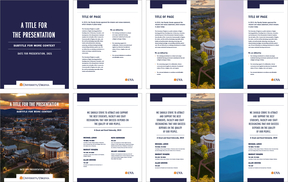 Download the Clean and Classic Template Group here.
Energy and Momentum Covers and Interior Pages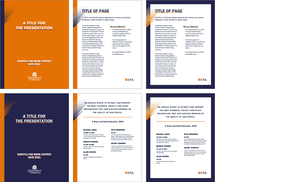 Download the Energy and Momentum Template Group here.
Lines and Shapes Cover and Interior Pages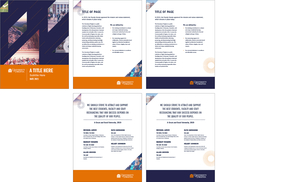 Download the Lines and Shapes Template Group here.
Conservative and Understated Cover and Interior Pages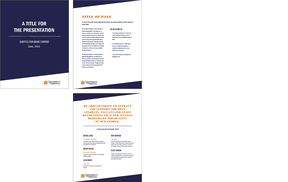 Download the Conservative and Understated Template Group here.
---
Custom Photo Templates
These templates are also suited for a wide variety of one-page documents, including event flyers, agendas, briefs, leave-behinds and others. With these templates, however, you can customize by adding your school or administrative unit logo lock-up and by switching the main photo with one of your choice.
A collection of additional images sized to work with these templates has been created, and is available for download.
The following tips can help you use these templates effectively:
Images must be moved to the back layer of the document. This can be done by right-clicking the newly placed image and selecting "Send to Back."
When selecting a template, do so based on the amount and type of content you wish to display. The text displayed below has the recommended maximum character count for each section. Feel free to use less content, but keep in mind that doing so may require manual spacing adjustments.
The logo lock-up within the template is for placeholder purposes only. You may delete it or replace it with your own logo lock-up.
If you wish to incorporate your own photography in the header, the appropriate image size is 1200 pixels by 554 pixels.
Custom Set A
Download Custom Set A here.
Custom Set B

Download Custom Set A here.