Social Media
Social media is an engaging and interactive medium and a great place to share your group's story. The Split-V Avatar is a thumbnail image that lets you represent your group in this channel while benefiting from UVA's overall institutional reach and recognition.
These guidelines can help you create a customized avatar and use it as effectively as possible.
Split-V Avatar
CIOs, SSOs and FOs may use a customized Split-V logo as a social media avatar. No other University of Virginia symbols or marks are permitted for use. Guidelines for how to use the Split-V as a social media avatar are outlined below.
Additional information related to the use of the Split-V logo can be found in the "Split-V"  section in these guidelines.
Create a Custom Split-V Avatar
Follow the directions below to use our Dynamic Templates to create a customized Split-V avatar. The diagram at right shows which elements are static and which are customizable.
NOTE: Google Chrome, Firefox and Internet Explorer are the recommended browsers to use when creating your Split-V logo. If you need assistance using these Dynamic Templates, please contact brandguidelines@virginia.edu.
1. Click on "CUSTOMIZE" below. A new window will open. In the top right of the window, click the pencil icon to go to the editable template.
2. Once the template has been opened, click on the "EDIT" button over the customizable text. Enter your CIO/SSO/FO name, and if you wish, click the "PREVIEW" button at the top of the window to review your logo.
3. Once you have previewed your logo, click on the green "FINISHED" button at the top of the window and click "YES" to confirm you have finished designing. Your new logo will be available to download in PDF, JPG and PNG formats.
What file type do you need to download?
For the purposes of uploading an avatar to one of the social media platforms, the recommended file format in this case is a .jpeg.
Incorrect Use: Split-V Avatars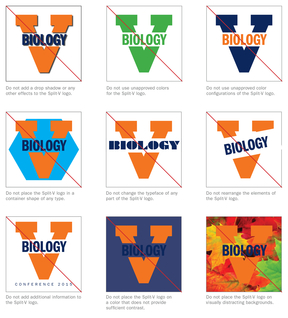 It is important to use visual elements like avatars correctly and consistently. While a great deal of flexibility has been built into the visual identity system, the correct use of each element has been carefully defined.
The examples represent some—but not all—of the ways avatars might be used incorrectly.