B-Roll Footage
 
To accelerate and enrich your production process, a collection of ready-to-use UVA B-roll assets is available. This includes a range of footage from around Grounds and Charlottesville, shot in a style that reflects the UVA brand.
---
Aerial Footage of Grounds
 
The beauty of Grounds is dramatically captured in this collection of aerial footage clips. Combining the visual impact of motion, altitude and long-range perspective, they convey the University's world-renowned architecture and landscaping with energy and impact. A variety of clips are available for download.  
---
Lower-Thirds
The most common text on screen takes the form of "lower-thirds," which is the term used to title an individual on screen.
A two-line format is recommended for the presentation of lower-thirds, where the first line is the subject's name and graduation year (if applicable) and the second line is the subject's title, degree, area of study, affiliation, etc. A single-line format is utilized when a two-line format is not applicable or necessary.
As shown in the samples below, our recommended placement of lower-thirds is at the bottom left or right of screen, depending on the composition or location of the subject. The text should be justified left or right accordingly. Lower-thirds should always be placed within the title safe area, which on a 1920px by 1080px frame would be 192px from the left or right of the frame and 108px from the bottom of the frame.
NOTE: Use of these templates will require that you have Photoshop/After Effects and the approved UVA brand fonts installed on your computer. To request fonts, please contact brandguidelines@virginia.edu. For more information, refer to the Fonts section in these guidelines.
There are two available styles of lower-thirds: Formal and Dynamic, both of which are available for download below.
Formal
This simple, classic style uses Franklin Gothic Book Regular is the preferred font for lower-thirds. The first line of text is sized at 50 pixels and the second at 40 pixels, styled in all caps with kerning set to 180 points.
Alumni
Line 1: Name, Graduation Year
Line 2: Degree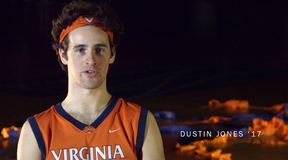 Current Students
Line 1: Name, Graduation Year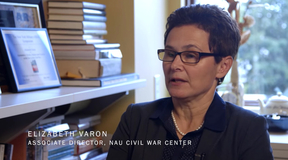 Faculty & Staff
Line 1: Name
Line 2: Title
Dynamic
This treatment has an added degree of energy and dynamism, and a slightly less formal feel. The first line of text is sized at 83 pixels, all caps, and the second at 48 pixels, title caps, with the kerning set to 26 points on both lines.
---
Brand Highlights Videos
These downloadable video loops showcase the UVA brand coming to life across Grounds and beyond. From scientific discovery to artistic exploration, they make inspiring and thought-provoking on-screen displays, and can be used as visual interest preceding meetings or in similar applications.
Brand Highlights Video #1 | Download
Brand Highlights Video #2 | Download