The Navigation Bar provides quick links to information contained within your site. Details about the Navigation Bar are listed below.
General Guidelines
The background color of the Navigation Bar is always Medium Gray (#DADADA), and the links are displayed in Jefferson Blue (#232D4B).
The Navigation Bar should contain between three and seven links. In addition, it is recommended to avoid linking to content outside of the University's website from these links.
Desktop Display
The Navigation Bar is situated between the Header and page content.
The Navigation Bar retains an overall height of 50 px.
Franklin Gothic Demi is the font used for links in the Navigation Bar, styled in all uppercase letters and sized to 15 px with a line height of 15 px.
There are 5 px of padding to the left and right of each link in the Navigation Bar.
Upon hover, the background color of Navigation Bar links change to White (#FFFFFF), and the text changes to Dark Orange (#EB5F0C).
Tablet and Mobile Displays
For tablet and mobile displays, the Navigation Bar and related links are folded into a hamburger menu. The hamburger menu icon and other web-related iconography are available in a sprite image file that can be downloaded in the Web Assets folder.
Franklin Gothic Condensed Demi Italic is the font used for links in the Navigation Menu, styled in all
Uppercase letters and sized to 14 px with a line height of 20 px.
There are 20 px of padding around all sides of each link in the Navigation Bar.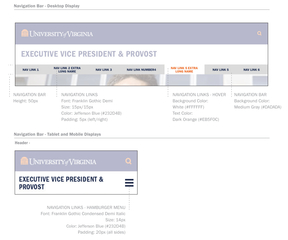 Remember: ITS Custom Applications & Consulting Services (CACS) can help you develop websites that meet brand guidelines. Visit http://cacs.virginia.edu to learn more, or go to the UVA procurement site for a full list of contracted vendors.