Three ratios are recommended for content images.
3:2 – Our standard image ratio, 3:2 photos are used for inline photos.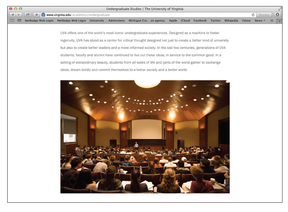 16:9 – 16:9 is the standard ratio for all video content.
5:2 – Our most dynamic image ratio, 5:2 is employed for full screen photos. Using this image ratio as a main image allows additional content to be visible above the fold.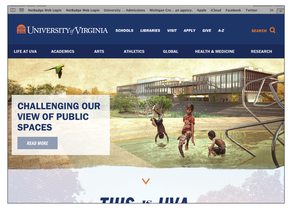 For information about our brand approved photo treatments, visit the Photo Treatments section in these guidelines.

Remember: ITS Custom Applications & Consulting Services (CACS) can help you develop websites that meet brand guidelines. Visit http://cacs.virginia.edu to learn more, or go to the UVA procurement site for a full list of contracted vendors.