These downloadable Photoshop files can help you build two different types of UVA-branded web pages: basic content pages and more feature-rich story pages. They include a range of optional modules, most of which can be moved, duplicated, or deleted.
Remember: ITS Custom Applications & Consulting Services (CACS) can help you develop websites that meet brand guidelines. Visit http://cacs.virginia.edu to learn more, or go to the UVA procurement site for a full list of contracted vendors.
---
Content Pages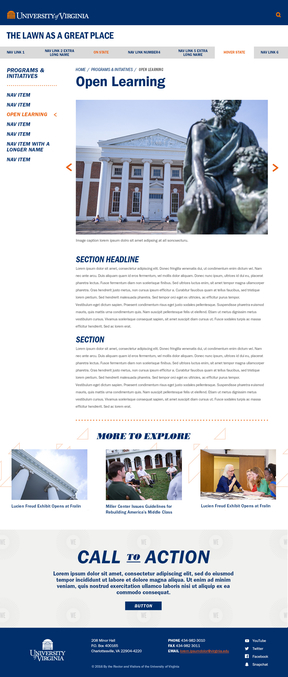 The content page template is recommended for relatively simple pages where images, copy, and links are sufficient.
Modules include:
5:2 ratio header image (single or slideshow)
Body copy, including bullets and subheads
Editable links to content of your choice
A "More to Explore" section for featuring up to three additional pages or sites
A Call to Action box to encourage users to take a specific next step
---
Story Pages

The story page template allows you to display a greater variety of content types including video, full-bleed images, and graphic treatments. It is well-suited for home pages, landing pages, and other high-visibility applications where you want to highlight a variety of content.
Modules include:
5:2 ratio or full-bleed header image (single or slideshow)
Copy with an image or video
Three-column promo to summarize and link to content of your choice
Two options for news and/or events, including an RSS feed or manual curation
Editable call-out quotes/key facts
Set of three statistic/number bursts
Two options for lists of related or quick links
Two Call to Action boxes to encourage users to take a specific next step