As shown below, Duotone photo treatments can be used to add interest and depth to graphics.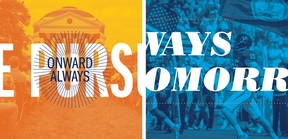 Duotone treatments on photography utilizes both the primary and secondary color palettes and work well as backdrops for typography.
Pretreated Images
A collection of pretreated images using the Duotone treatment are available for download. These images may be used across print and web applications.
Photoshop Action
A Photoshop action is available for this effect. Photoshop actions streamline the process of producing these effects in an easy and efficient way. Instructions on how to use the action are available.
---
To Create This Effect in Photoshop

1) With an image open in Photoshop, convert to grayscale (Image -> Mode -> Grayscale).
2) Convert image to duotone (Image -> Mode -> Duotone).
3) With the Duotone Options window now open, make sure 'Type' is set to Duotone.
4) Click the color box associated with ink one and enter either Rotunda Orange (C:0 M:68 Y:100 K:0) or Jefferson Blue (C:98 M:93 Y:12 K:46).
5) Click the color box associated with ink two and enter either our secondary yellow (C:0 M:20 Y:100 K:0) to pair with Rotunda Orange or our secondary cyan (C:100 M:0 Y:0 K:0) to pair with our Jefferson Blue.
6) Click the curves box besides the two ink colors and adjust the duotone curve, if needed.
7) Click OK. Image can now be converted to CMYK for four-color printing or RGB for web.