Diagonal plane breaks offer another way to represent breaking boundaries, ingenuity and the concept of the illimitable freedom of the human mind. The following examples illustrate the variety of ways this technique can be employed.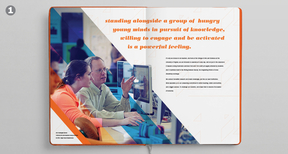 Figure 1
Figure 1 illustrates the use of diagonal plane breaks. To symbolize the idea of breaking boundaries and forward motion, selections of images interrupt diagonal planes to create a sense of momentum and energy.
Dynamic images such as the mountain biker shown below work particularly well with diagonal plane breaks. In addition, one-color images, ink blots, color overlays and shapes can be combined with diagonal plane breaks to further enhance this effect.
---
How To Create This Effect in Photoshop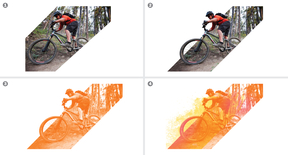 1) Strategically place the image within diagonal shapes such that all pertinent elements are visible. Images that convey a strong sense of forward motion work well to achieve this.
2) Next, a small section of the image should be clipped out to break the plane of the image container. Apply the shape mask to the photo and clip out the area that you would like to break the plane.
3) Photos can then be treated with color overlays, as in this example. For direction on how to create this effect, refer to the "One-Color Photo Treatments" section.
4) In addition, other effects can be added, such as ink blots and color overlays, as shown above.