Cross-disciplinary collaboration is a hallmark of the University's unique approach to higher education. Pan-University Institutes such as the Brain Institute and Biocomplexity Institute embody this collaborative spirit, bringing together experts from across the University to address societal challenges from new angles.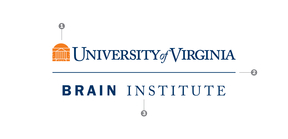 (1) The Rotunda mark signifies UVA's timelessness 
(2) The horizontal separator creates a traditional feel
(3) ITC Frankling Gothic Std Demi combined with Adobe Caslon Pro Regular creates a cohesive relationship with the UVA logo
As shown below, a logo lock-up design approach has been created for Pan-University Institutes. These lock-ups fall within our brand guideline system and reflect the individual identities of each institute.
For more information, please contact brandguidelines@virginia.edu.