Three templates have been created to support a variety of presentation needs. All template options are designed to be interchangeable. Additionally, PowerPoint and Keynote templates are available in both 4:3 and 16:9 aspect ratios.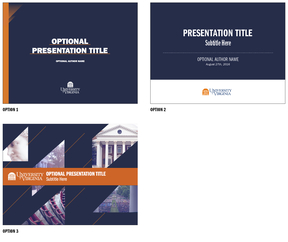 To use one of the three branded presentation templates, select and download starter files from the list below. Additional presentation images can also be downloaded from the Branded Template Image Options folder.
For your convenience, the following presentation templates are available:
NOTE: Use of these templates will require that you have the approved UVA brand fonts installed on your computer. To request fonts, please contact brandguidelines@virginia.edu. For more information, refer to the Fonts section in these guidelines.
Presentation Divider Slides
These new divider slides can be used to separate sections of your branded presentations. This collection of 16 new slides includes customizable titles and a wide range of image options.
As with all of our presentation templates, these divider slides are available in both PowerPoint and Keynote formats, in 4:3 and 16:9 aspect ratios.

Presentation Template Options
OPTION 1
Choose when you want to add additional visual design elements to a formal, corporate, or simple presentation.

OPTION 2
Choose when a formal, corporate, or simple presentation style is appropriate.

OPTION 3
Choose when a more creative presentation style is appropriate.