Fleet Marks
Fleet marks are appropriate for offices or departments at the University that own and use multiple vehicles for their operations. University Communications has created a collection of options that allows groups to customize their marks while following an institutional approach to maintain the overall UVA brand.
Fleet marks incorporate the following: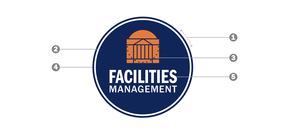 (1) Three-color combination of Jefferson Blue, Rotunda Orange and White
(2) A simple geometric shape (circle, square, rectangle)
(3) The Rotunda proportionally placed within the shape and alongside the office or department name
(4) A floating stroke surrounding the geometric shape
(5) The office or department name
NOTE: If you would like to use a fleet mark for your office or department, please send your request to Michael Barry at mrb9x@virginia.edu. We will work with you to create a custom mark that suits your needs.
Fleet Marks Collection
Fleet Marks In Use