Brand Essentials

Tools & Templates
Fleet Marks
Fleet marks are appropriate for offices or departments at the University that own and use vehicles for their operations. The University has created an institutional system for custom marks to maintain the overall UVA brand. Follow the instructions below to order your own Fleet Mark, starting by downloading this form.
---
Naming
(1) Maximum three lines of text per mark
(2) Maximum 14 characters (including spaces) per line 
(3) When two departments share a vehicle, the names are divided by a thin rule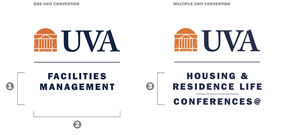 Color
(1) White vehicles use full color Fleet Marks
(2) All other color vehicles use white Fleet Marks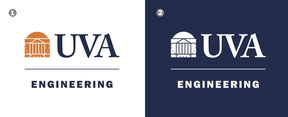 Sizing and Placement
(1) Standard vehicles: 12-inch small mark, placed on front driver and passenger doors 
(2) Trucks and vans: 14-inch large mark, placed on front driver and passenger doors 
(3) Special vehicles (i.e. golf cart, Kubota, gator): 12-inch small mark, placed on hood, unit names only on the sides of the body 



---
Fleet Mark Ordering System
(Step 1) Fill out and submit this order form to brandguidelines@virginia.edu, where it will be reviewed by University Communications.
(Step 2) Once the naming convention is approved by University Communications, the completed form will be submitted to Facilities Management, who will perform production and installation of all fleet marks. 
(Step 3) Fleet mark requestors will work directly with Facilities Management to schedule their installation.